The Women of Narrative Food
As a company that has existed in one form or another since 2010, I have been blessed with amazing team members over the years. Amongst them were four women, in particular, who shared my passion for story telling through food, and whose mark is truly embedded in the DNA of Narrative Food!
My very first employee, over a decade ago, was a chef and 6'2" tall basketball player, Tina Stetson. A pro at "team spirit", she took the reins on production for me from the start, like an Amazonian super-hero, always unfazed by all the unexpected issues we would solve every week. Tina was also a very fun story teller, and in particular, I always loved her Halloween Box, with fun, spooky recipes for mashed potato ghosts and more, accompanied with creepy rhymes about our boxes! Tina is now a mother and chef and trained nutritionist.
When Tina took a full time job at Apricot Lane Farm, I was blessed to welcome to our team another of my favorite humans, Melissa Cortina -- whom many of you might recognize from her pre-pandemic Hollywood Farmers Market stand called Bavette Meat & Provisions (or if you have a very long memory you might remember her from the Lindy and Grundy days when she was the manager at one of the very first women-owned nose to tail butchers anywhere!). An environmentalist at heart, Melissa is brilliant and passionate and committed to the good food movement, with a particular focus on pasture-raised meats and nose to tail butchery. She helped us set up our meat program, and then during the pandemic she also came to the rescue, and helped us scale our operations to meet the moment! One of my favorite blog posts was penned by Melissa: "Yes, I am a female butcher"! Today, Melissa is preparing for a more active role in food policy, which is a perfect place for her to make a lasting mark.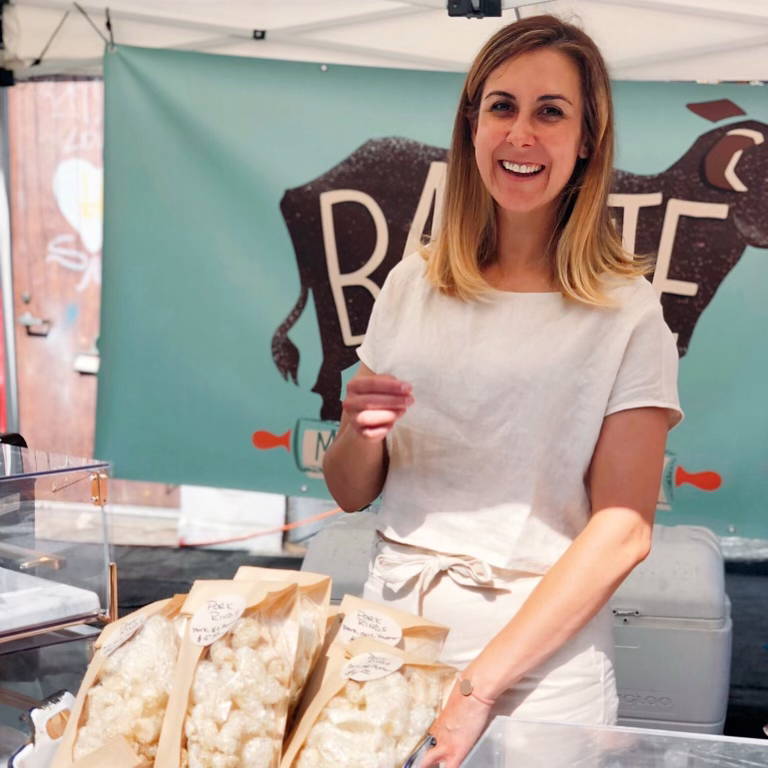 Next up, Clarissa Wei, at that time a budding food journalist with a focus on the Asian food scene in LA. Clarissa was also incredibly determined. With few resources, she rounded up a team of summer interns who would convene around my dining table several days a week, testing recipes, photographing food, and creating an incredible amount of content for our blog -- including this adorable "Food Haul" video, with my son co-starring! (Some of her retinue of recipe tester interns are at work in the background).
Clarissa also wrote some entertaining content for our blog (called Forage and Pasture at that time!) -- classics like "I like to Clean out my Fridge with an epic cooking session" ! Fast forward to 2023 and Clarissa is married, living in Taiwan, the presenter of Climate Cuisine -- a Whetstone Radio Collective podcast that explores how sustainable crops are used in similar climate zones around the world -- and she's about to publish her first cookbook on Taiwanese food! So proud of all the amazing work she has been doing!
Last but not least, is a beautiful soul: B. Evy-Marie Harris. Our creative director for several years, she helped me rebrand the company from Out of the Box Collective to Narrative Food -- and then, unexpectedly, was by my side when we suddenly confronted the pandemic. She supported our transformation into a frontline company serving LA during the most challenging of times! Against all odds, B. created some of our most memorable mealplans, and created gorgeous weekly inserts, social media and emails. With a magic touch that made everything beautiful -- from photos to written content -- B. puts her heart and soul into everything she touches. One of my favorite B. boxes was this exploration of the intersection of food and civil rights: the Glorious Opportunities Box.  If any of you frequent the Hollywood or SM farmers markets, you will recognize B, procuring the choicest -- most beautiful -- produce and flowers for the city's most beloved chefs...
The past 13 years of Narrative Food have been a voyage, and I am so grateful for all the wonderful people (women AND men too...) who have been by my side on this adventure. More adventures to follow!!